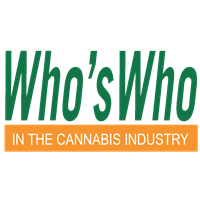 Initially incubated by the National Cannabis Industry Association (NCIA) and now powered by Brainsy, the Who's Who in the Cannabis Industry (http://www.whoswhoincannabis.com) was opened to the industry today to provide an interactive, knowledge-sharing, and promotional platform to showcase leading individuals and companies in the legal cannabis industry.
By all accounts, the cannabis industry is growing rapidly with some analysts estimating the global legal marijuana market will reach as much as USD 146.4 billion by the end of 2025.
"As a highly regulated industry coming out of the shadows of prohibition in many U.S. states, one of the biggest challenges for legal cannabis operators and entrepreneurs is ensuring an open and free flow of knowledge that brings transparency to all aspects of the business," stated Brian Christie, CEO of Brainsy. "We expect the Who's Who in Cannabis will allow leading personalities and companies in the industry to share knowledge and become more accessible to government policymakers, entrepreneurs, cultivators, small businesses, researchers, dispensary owners, and others. We also hope the platform might become a forum to discuss social justice issues because the poor and communities of color are disproportionately arrested and incarcerated for marijuana possession."
Qualified individuals featured in the Who's Who will have access to cutting edge interactive tools to promote themselves and to generate business leads. The Who's Who includes an "InCall®" feature so that featured individuals can get paid for private one-on-one phone calls.
"We are excited to have so many members of NCIA as part of the Who's Who in Cannabis, offering their unique advice, experience and insight to help educate others about our industry," stated Aaron Smith, Executive Director of NCIA. "We're pleased to continue to work with Brainsy on this initiative and to know that our members will get discounts for services or sponsorships on the Who's Who platform."
Qualified companies can subscribe online: https://www.whoswhoincannabis.com/a/subscribe
The categories of expertise in which companies or individuals will be invited to participate in the Who's Who in the Cannabis Industry include:
Accounting, Advertising / PR / Marketing, Advocacy or Non-Profit, Banking & Payment Processing, Branding Services, Accessories, Dispensaries, CBD Products, Compliance & Policy, Construction & Contracting, Consulting Credit & Collection Services, Cultivation Data, Services Delivery, Service Education & Training, Energy & Sustainability, Events & Conferences, Extraction, Greenhouses, Health Care Professionals, Hemp Products, HR / Recruiting / Staffing, Infused Products & Edibles, Insurance, Investment / VC / PE Financing, Labs & Testing, Services, Lawyers & Legal Services, Lighting, Nutrients, Packaging & Labeling, Publications & Media, Real Estate, Security, Software & Point Of Sale, Water & Irrigation
About Brainsy, Inc.:
Brainsy offers Software as a Service (SaaS) to power online knowledge-sharing and bounty networks including patented Expert Calling Network (ECN®), Expert Communities Online (ECO), Who's Who and Digital Buyers Guides. Brainsy offers these services to associations, professional societies, franchisors, membership organizations, and crypto or token sponsors. Brainsy is a portfolio company of TomorrowVentures, an investment firm co-founded by former Google Chairman, Eric Schmidt.